Mar 27 2005
[ next lecture | course info | description | FAQs | Field Theory notes | projects | webbook help | Cvitanović schedule ]
QUANTUM FIELD THEORY

| | |
| --- | --- |
| PHYS-7147 Jan 11 - Apr 28 2005 | Spring 2005 |
| TR 12:05-13:25 in Howey S107 | Predrag Cvitanović |
Course schedule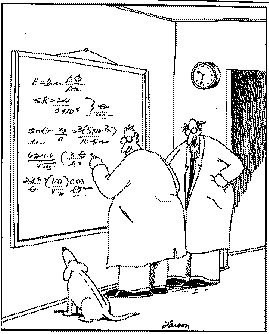 They act so cute when they try to understand Quantum Field Theory.



Course description

Questions

Course participants

emails list
Links

links to related courses (to fix)


Start: Tuesday, Jan 11 2005, 12:05 in Howey S107



e-TEXTBOOKS:
PREREQUISITES: A basic background in calculus, ordinary differential equations, classical, quantum and statistical mechanics. Weekly homework assignments require analytic and occasionally numerical work.
TEACHING METHOD: Two lectures and a homework problem set per week.
EVALUATION METHOD: Overal course grade will be determined from the homework (70%), and the final (30%).
PROBLEM SETS: Please deliver solutions to problem sets by Thursday, at the lecture, or place them in Predrag's mailbox.
TEACHING ASSISTANT: Rytis Paskauskas, gte203x at prism.gatech.edu, Howey W503, Phone: 404/384-9407
Lecture topics will be described weekly by e-mail. Please subscribe to the course by email to Predrag.Cvitanovic at physics.gatech.edu even if you are not tgaking the course for crerdit, and are only interested in a subset of the topics.